What Clients Say
"Parkertron provided a first rate service and I.T. consultancy"
Ben Parker, Managing Director
Corperate Services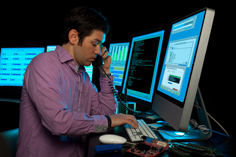 Parkertron Ltd can supply a fully qualified full time technician to work in your business. You are provided with support all year round (excluding bank holidays), we provide support when the engineer is sick and when replace the engineer with a temporary engineer when your main support engineer is on holiday. Parkertron provides businesses with reliable IT support. We are dedicated to supporting the IT infrastructure of your business. Our services include:

IT Support Reliable IT support from Microsoft certified professionals. Parkertron provide remote, help desk and onsite IT support for your business.

IT Audits Regular IT audits to ensure that your IT infrastructure is capable and equipt to meet the needs and demands of your business.

IT Consultancy and Project management Our engineers will be on hand to advise, guide and support your business' IT infrastructure and will fully manage any projects from generation to deployment.

IT Security Parkertron provide a range of IT security products to protect your computer network.

Business continuity Backup and disaster recovery solutions designed to reduce costs and minimised business downtime in the event of a disaster or data loss.